Experience Freedom!
The KDE® Community is an international technology team dedicated to creating a free and user-friendly computing experience, offering an advanced graphical desktop, a wide variety of applications for communication, work, education and entertainment and a platform to easily build new applications upon. We have a strong focus on finding innovative solutions to old and new problems, creating a vibrant atmosphere open for experimentation.
Learn more...
Plasma 5.1 Brings Back Many Popular Features.
15 October, 2014. KDE ships second version of Plasma 5.
KDE Ships Applications and Platform 4.14.2
14 October, 2014. The KDE Community proudly announces the second bugfix release for KDE Applications 4.14 and KDE Platform 4.14.
KDE releases Frameworks 5.3.0
7 October, 2014. KDE ships third release of KDE Frameworks 5, our modular Qt libraries.
Application Spotlight
KBlackbox is a game of hide and seek played on a grid of boxes where the computer has hidden several balls. The position of the hidden balls can be deduced by shooting beams into the box.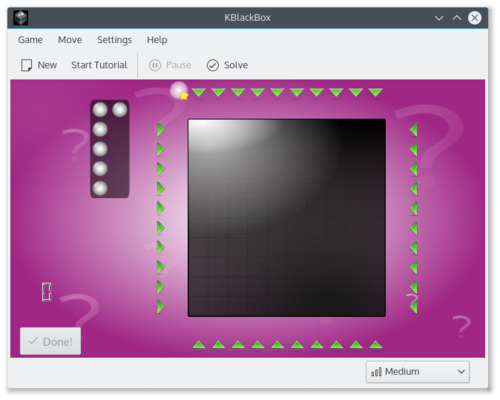 KDE Patrons