Experience Freedom!
The KDE® Community is an international technology team dedicated to creating a free and user-friendly computing experience, offering an advanced graphical desktop, a wide variety of applications for communication, work, education and entertainment and a platform to easily build new applications upon. We have a strong focus on finding innovative solutions to old and new problems, creating a vibrant atmosphere open for experimentation.
Learn more...
KDE Releases Applications 16.08.1
8 September, 2016. KDE ships KDE Applications 16.08.1.
Plasma 5.7.4 Released
23 August, 2016. Plasma 5.7.4 release.
KDE Releases Frameworks 5.25.0
13 August, 2016. KDE ships monthly release of KDE Frameworks 5, our modular Qt libraries.
View
more announcements...
Application Spotlight
KTouch is a program to learn and practice touch typing. Every finger has its place on the keyboard with associated keys to press. Starting with only a few keys to remember you will advance through different training levels where additional keys are introduced. Because you no longer need to search for the keys on the keyboard you will be able to type quickly and accurately.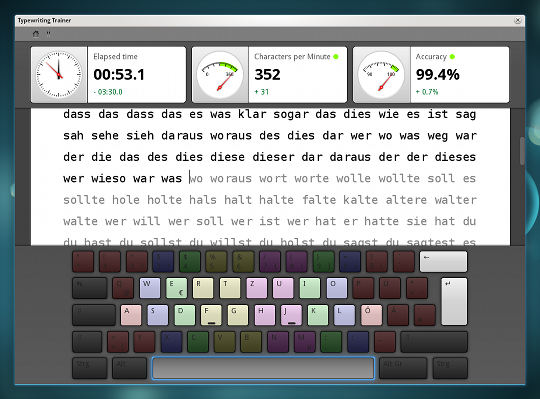 KDE Patrons