Experience Freedom!
The KDE® Community is an international technology team dedicated to creating a free and user-friendly computing experience, offering an advanced graphical desktop, a wide variety of applications for communication, work, education and entertainment and a platform to easily build new applications upon. We have a strong focus on finding innovative solutions to old and new problems, creating a vibrant atmosphere open for experimentation.
Learn more...
KDE Releases Frameworks 5.12.0
10 July, 2015. KDE ships monthly release of KDE Frameworks 5, our modular Qt libraries.
KDE Releases Applications 15.04.3
1 July, 2015. KDE ships KDE Applications 15.04.3.
Plasma 5.3.2 Released
30 June, 2015. Plasma 5.3.2 fixes important bugs.
Application Spotlight
KInfoCenter is a utility that provides information about a computer system.
The information provided are about:
Devices
DMA-Channels
Interrupts
IO-Ports
Memory
Network Interfaces
OpenGL
Partitions
PCI
PCMCIA
Processor
Protocols
Samba Status
SCSI
Storage Devices
USB Devices
XServer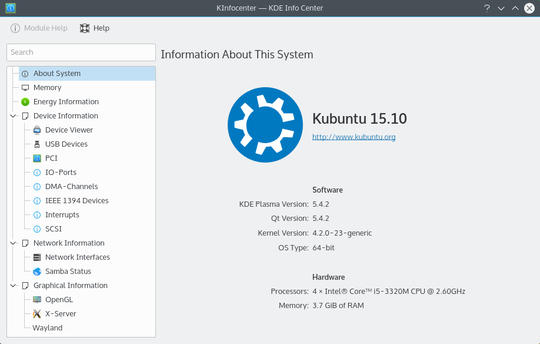 KDE Patrons